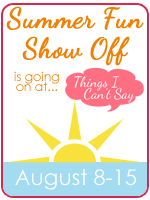 Shell has another fab link-up all about recapping our summer in photos. Here are a few that sum ours up for me:
Broccoli from the garden
Barbecue
Baby R enjoying watermelon
Baby R at The Magic House in St. Louis
Our first train ride to St. Louis
Bubbles in the July 4th parade
Sprinkler time
Family get together
Sidewalk chalk face (sideways)
Birthday presents
I'm having a terrible time getting my pics to line up, but I think it looks fun this way. Right? Right?
Link up
your
Summer Fun for a chance to win prizes from
Ubisoft
!